Back to List
Highlighted & Upcoming Performances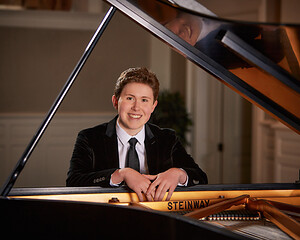 Radio/Online Broadcast of May 2016 Mendelssohn Piano Concerto No. 1 Performance with the Dayton Philharmonic (with new 2020 Intermission Interview)
Place & Time
Discover Classical's Concert Night with the Dayton Philharmonic Orchestra
RADIO BROADCAST will air on Discover Classical:
88.1FM WDPR Dayton
89.9FM WDPG Greenville
89.1FM WUSO Springfield
and ONLINE at discoverclassical.org

ONLINE Discover Classical LINK TO THIS PERFORMANCE: (To be soon made available)
Online & Radio
June 13, 2020
8:00 PM
Program
Rebroadcast of May 2016 Performance:
Higdon: river sings a song to trees
Mendelssohn: Piano Concerto No. 1 (Gavin George, piano)
Mozart: Symphony No. 41, "Jupiter"
Intermission Interview: Gavin George and Mei-Ann Chen
*NOTE: Gavin George's February 2020 performance with the DPO airs on Discover Classical's "Live and Local" this Saturday morning, June 13 at 10:00 am.

Mei-Ann Chen, Guest Conductor
Gavin George, Piano
Additional Information
Discover Classical and the Dayton Philharmonic Orchestra are pleased to announce that every Saturday night, Discover Classical will broadcast a previously recorded concert from the Dayton Philharmonic Orchestra for the southwest Ohio region to tune in and enjoy from the comfort of their homes. In this unprecedented time when concert halls are closed, Discover Classical and the Dayton Philharmonic are thrilled to partner together to bring the joy of music and maybe a little hope back into the lives of the greater Dayton community.